Integrate Real World Content Into Your Courses!
Integrate Real World content into your curriculum with ease! Integration is especially important in today's' cyber connected world. Use surveys and personal observation to choose age-appropriate, culturally popular text with your students.
Respect their Real World choice whether sports cards, comic books, rap, or videogames. Check out the text yourself and add this as, or substitute it for, an option on your course of study.
If you have never attempted to integrate Real World content into any teaching unit or if you have done little, a simple start with Real World text is manageable and fun to explore with your class.
If you have done much integrated unit teaching, you have likely learned how to encourage students to lead the way to subject accommodations of Real World content and built several media text sets (print and non-print).
Whatever your experience, when you integrate Real World content, you support your teaching objectives and curriculum goals – whether standards or milestones on school, district, and regional guidelines. These will include demonstration of student's ability to:
Establish the central idea or theme


Attend important detail


Use prior knowledge to make predictions about meaning in reading
* Real World knowledge of baseball; for example, can be relied upon to predict meaning in reading baseball sports cards.
Build vocabulary
Make connections from reading to prior knowledge base
* Math knowledge; for example, expands understanding of RBI and Batting Averages on baseball cards.
Identify similarities between other text forms to make connections
* Different print forms may offer similar information; for example, player information on sports cards, in souvenir programs, and on team websites.
Identify distinctive features of form
* Differences between print forms are used to find information; for example, player information from a program but seat information from a ticket.
Summarize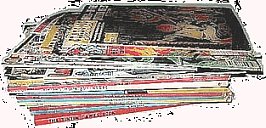 Discuss
* Peer reading experiences and interpretations differ. Discussing reading with others, such as background of comic strip or movie characters is enjoyable and informative.

* Discussion provides insight into other interpretations and points of view.
Respond and present in measurable ways
* Exploring Real World content can motivate skill set acquisition and practice in classroom settings.

* A reader responds in different ways to reading; for example, collecting, taping, charting, drawing, researching, building, etc.
Additionally, when you integrate Real World content, you provide absorbing practice formats for students in:
Grouping and categorizing
Instruction reading and writing
Research
Task analysis and problem-solving
Subject expressions, idioms, and abbreviations
Information rearrangement
Short and long-term project planning and execution
Composition – writing, graphics, media
Speed-reading

And that is even before you add subject specific goals!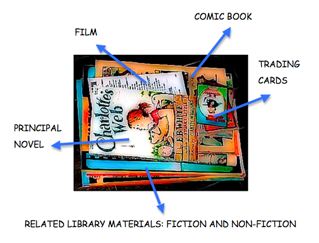 Here is a range of starter ideas for you. Layer in complexity and/or subject specifics. Weave Real World content into your studies and help students find and establish connections between subject literacies.
Integrating Charts and Writing Projects
Integrating Trading Cards and Biographies
Integrating Comics and Reports
Integrating Diagrams and Fiction
Integrating Menus and Character Study
Integrating Travel Plans and Unit Reviews
---

Return from Integrate Real World Content hub page to Real World Content Advantage home page.