Explore student Real-World content literacy skills and build on that content savvy to enhance all related curriculum literacy skills.
 
This site includes hands-on examples of which Real-World materials work well in your subject. Spin them to best advantage for new, educational, and customized content literacy. You will also learn many of the reasons these authentic-text materials work so successfully to support your teaching goals.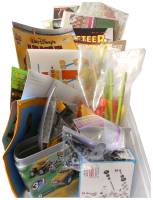 My preference for Real-World Text over School text got me into hot water early. I watched my kids interacting with "Found" or Real-World Text materials in the schoolyard. They were absorbed in the content and engaged in questioning and argument.
I wanted all that to continue inside my classroom. I invited them to bring      Real-World stuff into School-World.

I first used the advantages of these Real-World content literacies with 2nd and 3rd graders who spoke no-to-little English fluently.
Of course, the path was not smooth. I alienated my school principal when we emptied our desks of textbooks and passed them to the back of the room. But all I could think was… what if?
What if I could mine that Real-World content literacy they already had?

What if I could show them that what they already knew was valuable and a jump-start on what we had to master in the classroom?

What if I could show them how classroom content literacies would assist them out in their everyday lives?
It  just seemed so logical. Who knew where we could go together?
Where we went was right through the core subject objectives we needed to meet – the course requirements for their promotion. Eight months after our Real-World content start, these students achieved standardized test scores in reading/response literacy levels from 5th to 11th grade.
What I learned propelled me into a lifelong study of knowledge acquisition and launched me on my quest to understand
• what Real-World content materials worked best
• why teaching from everyday materials worked so well
• how to reinforce skill and literacy sets
• how to share what I learned with others – students, teachers, parents.
So, if you are —
Teacher or Parent,
New or Experienced,
Student looking for a creative edge,
let's explore some examples of Real-World content literacy & check out the advantages they offer to increase your effectiveness when teaching from everyday materials... and have some fun at the same time!