Integrate Diagrams and Fiction!
In your next play or novel study assignment, integrate diagrams and fiction. Ask students to create one setting they can visualize from the work.
Challenge students to:
* Plan a room that reflects measurements appropriate to the era

* Lay out the room showing all window and door placements

* Position furniture and rugs

* Show colors and other detail

* Use arrows to label parts of setting, writing in line/page number of description found to support inclusion in the diagram.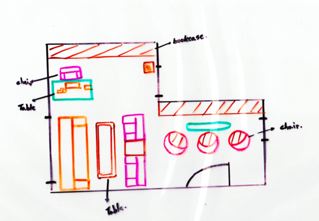 The response might take the form of an overhead transparency or computer presentation software slide.
As a group work, students could create a set of transparencies or computer presentation frames.
Excellent illustration of a close reading inside a terrific presentation project!
---

Return from Integrate Diagrams and Fiction to Integrating Real World Content hub page for even more ideas for integrated teaching steps!


Return from Integrate Diagrams and Fiction to Real World Content Advantage home page.